Designed by Anglers for Anglers
Tri-Cast Luggage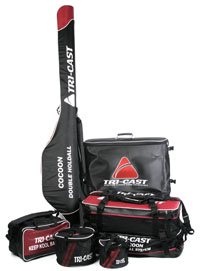 Here at TRI-CAST we put the same design & development into our luggage range as we do our Carbon Fibre rods and Poles. Our consultants and team members are continually offering more and more suggestions and recommendations into this range. In addition we are conscious that any item of luggage has to look the part as well as offering even more functionality than ever.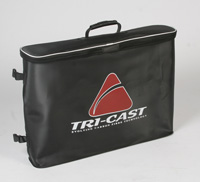 All the range is manufactured from 660d grade material as well as using the finest quality of heavy duty Zips, buckles and fasteners throughout. In addition each product is either double or triple stitched using silk thread for added durability, all of which contributes to the quality you rightly expect from TRI-CAST
Our entire 2016 range displays totally that we have concentrated our designs on the user friendly element for today's angler. The holdalls, both  6 TUBE DELUXE POLE and the new 8 – 10 TUBE DELUXE MATCH incorporate easy clean linings, internal strappings to hold your tubes in place, deep outer pockets that have our unique easy reach openings (no more turning  your holdall  upside down ) to access items, as well coming  complete with reinforced bottoms. All of these design features do not compromise the fantastic appearance of each item. To run alongside them is our new COCOON DOUBLE HARDCASE HOLDALL. Designed to keep your ready made up Waggler and Feeder rods safe and ready to use as soon as you get to your peg.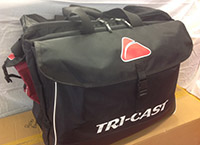 Combine these holdalls with a choice of the most unique and versatile Carryalls. We all realise that we have far too much equipment, bait and accessories to transport to our pegs and not all of it is required on every venue. Therefore with our COCOON CARRYALL SYSTEM and the new SUPER DELUXE 60 LITRE MATCH CARRYALL,they give the angler the opportunity to adapt his carryall to suit his fishing trip needs on any given day. The Cocoon Carryall has a unique fold out system, giving you ease of access to find just what you are looking for,  as well as the combined ability to remove sections within the Carryall when not required, or even split the carryall itself into two separate bags. You can in seconds personalise your Carryall for that day to carry just what items are required, leave the rest safely at home, or in the boot of your car. Why carry extra weight with you when it is not required. The all new SUPER DELUXE 60 LITRE MATCH CARRYALL is designed for today's modern match angler. Loads of room inside the main compartment and with a Zipped wide compartment which will take two nets with ease and then a further outer pocket for your landing nets or side tray etc. Two end pockets for bits and pieces and a very well padded carrying handle and shoulder strap complete this value for money match carryall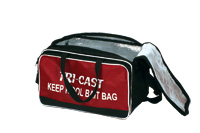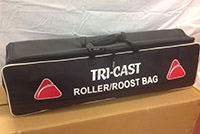 Both Carryalls are supplied with fully lined 'Easy wipe' linnings so it can be easily kept clean, plus the Cocoon Holdall includes the added feature of its own custom fit bait trays and cool bags to keep your bait fresh.
To run alongside both these Carryalls we have our standard double Net bag, but also our very own EVA Fully Sealed NET BAGS. The STANDARD EVA Bag is designed to carry two large keepnets and a landing net, with the LARGE EVA BAG, you get a bigger compartment to take 3 nets plus landing nets with ease. These EVA Net Bags will keep any excess water inside until you arrive home and empty them the water out. 
Also for 2016 we have introduced into the range a specially designed POLE ROLLER / ROOST BAG. As the name implies this fully zipped bag has two compartments for carrying your rollers and roosts etc. It is large enough to carry two of the largest rollers, plus pole roosts, and you can even store things such as Feeder arms and spare side tray legs etc. A very vital piece of luggage for today's modern match angler.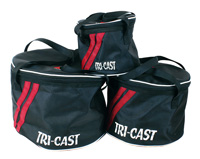 To Summarise, there is everything and more the angler could ask for in this luggage range.
Offering excellent thoughtful Design, Versatility, Reliability, you rightly expect, plus the added bonus of exceptional value for money. The whole range uses our Corporate Colours of Black and Maroon with a white piping, which are all co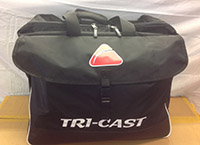 -ordinated to ensure they look the part as well as being functional pieces of equipment.
| | | |
| --- | --- | --- |
| Product | R.R.P. | S.S.P. |
| DELUXE 8 - 10 TUBE MATCH HOLDALL | £59.99 | £54.99 |
| DELUXE 6 TUBE MATCH POLE HOLDALL | £57.99 | £46.99 |
| COCOON DOUBLE HARDCASE HOLDALL | £74.99 | £62.99 |
| COCOON CARRYALL SYSTEM | £97.99 | £87.99 |
| 60 LITRE DELUXE MATCH CARRYALL | £49.99 | £42.99 |
| E.V.A. SEALED NET BAG STANDARD | £42.99 | £37.99 |
| E.V.A. SEALED NET BAG LARGE | £45.99 | £42.99 |
| DOUBLE NET BAG | £29.99 | £24.99 |
| KOOL BAIT BAG | £28.99 | £24.99 |
| PADDED SINGLE ROD SLEEVE SMALL 1.52 MTRS LONG | £26.99 | £20.99 |
| PADDED SINGLE ROD SLEEVE LARGE 1.72 MTRS LONG | £28.99 | £22.99 |
| GROUND BAIT BOWL SMALL 9 INCH | £8.99 | £7.99 |
| GROUND BAIT BOWL MEDIUM 12 INCH | £10.99 | £10.99 |
| GROUND BAIT BOWL LARGE 15 INCH | £12.99 | £12.99 |
| POLE ROLLER / ROOST BAG | £36.99 | £29.99 |
| TRI-CAST ANGLERS BASEBALL CAP | £7.99 | £5.49 |