Match Rods
XRS Pellet Waggler Rods

We have what we and the Angling Press firmly believe to be one of the biggest selling rods of the decade so far. Already they have received rave reviews in the press since their launch and won the greatest accolade of being voted ROD OF THE YEAR by the Angling Media.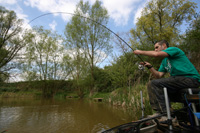 One of the many quotes given to us, was "I can't believe what this little rod can do!!!" Bearing in mind that it is a 10/6 Rod with an additional one foot extension allowing you to fish at 11/6 when circumstances warrant. Following such a resounding success of the 10/6 in its first season, we have added an 11/6 to this exceptional; range. The introduction of an 11ft 6 - 12ft 6 model, is for those anglers requiring to cast that extra distance, without any loss in bait presentation and performance seen with the superb 10/6 model. Rods are supplied with RDX quality guides throughout and winch reel fitting, these rods are pencil slim and so light you can't even feel you are holding them.
The performance gives you a nice soft through action very accurate casting, and as you hook into those large carp the rod bend cushions the hook home and lets you feel every single movement of the fish. As with the longer Power rods you still retain control of the fish and these rods do that with ease. Double figure fish are no problem to these two atoms. Short to use on these very tight commercial fisheries and perfect for fishing up in the water with the ever popular pellets. These rods are a must for your holdall.
| | | | |
| --- | --- | --- | --- |
| Model Ref. | Length (m) | C/W ( L/R) | SSP |
| R-X2K4-3106 | 10/6-11/6ft (3.20-3.51m) | 0-20gm (2-6lb) | £164.99 |
| R-X2K4-3116 | 11/6-12/6ft (3.51-3.81m) | 0-20gm (2-6lb) | £179.99 |