Trilogy 8m Competition Whip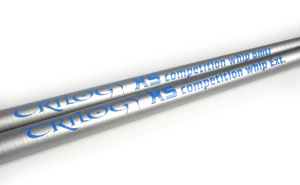 To complement our Award Winning TRILOGY XS 16.5mtr POLE we have now launched its perfect partner, The TRI-CAST 8mtr TRILOGY COMPETITION WHIP.
Using the same specification of materials and manufacturing processes to produce the TRILOGY Pole, this Telescopic / Take Apart Whip is in a league of its own.
It was designed primarily for use on Rivers such as the WYE, SEVERN, TRENT, OUSE and the Drains throughout the FENS; this whip is just perfect in action and strength for fishing to hand and swinging in Roach, Dace and Perch, quickly building up match winning weight. Equally, this Whip is at home when being used on both still waters and canals.
This super slim whip weighs a mere 275 grams at its full 8mtr length. If you require just that little extra length, then a One metre long extension is readily available.
The whip top kit is fitted with a solid Flick Tip, plus there are 2 Spare Top 3 Kits, supplied with the pole; both of these have hollow tips which are ready for bushing and fitting elastics. All the Top 3 sections are fully Telescopic, with the remaining sections being Take Apart.
The Whip has a crisp action giving you immediate response, so that bites can be hit very quickly, with power coming into play in the mid sections, giving you the backbone and control to swing those decent fish safely to hand.
This is yet another excellent Tri-Cast product that is built with a combination of Finesse and Strength and designed to satisfy today's anglers increasing demands.
| | | | | |
| --- | --- | --- | --- | --- |
| Model Ref. | Length (m) | Wgt (grms) | RRP | SSP |
| P-TW-8 | 8m | 270grms | £519.99 | £459.99 |
| P-TW-EXT | 1m | 96grms | £109.99 | £92.99 |
| P-TW-T3KIT | 2.7m | N/A | �99.99 | £79.99 |