Competition Poles
Excellence 980 Pole
2019 sees us release our brand new flagship pole the EXCELLENCE 980.
The pole is made from a brand new 980 Modulus Carbon and an Ultra High-Density Resin which keeps the lightness but improves strength and rigidity. The kits are made on new mandrills with an improved taper and therefore the previous Excellence kits will not fit the new model. We have had to make them this way to vastly improve the response of the pole and completely eliminate any bounce in the pole when shipping in and out.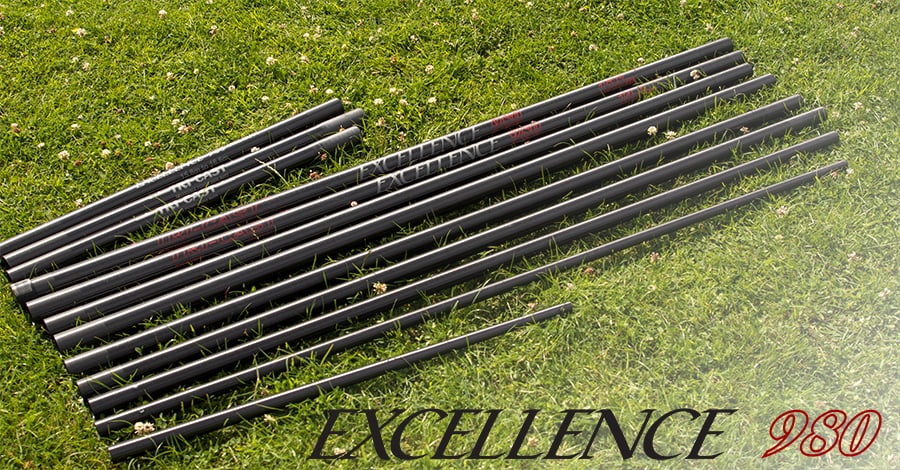 This pole is super ridged and hitting bites is very fast. Built for today's modern fisheries where fish are getting bigger and fighting harder and match weights are increasing all the time. The EXCELLENCE 980 has been designed and built just for that.
The EXCELLENCE 980 really is a step up and has been under design for well over 12 months and has been updated several times along the way until we feel we have produced a match commercial pole to rival and better anything else on the market.
The pole comes at either 14 mtrs or 16.6 mtrs with many upgrades to the original Excellence Pro Pole.
The new 980 has improved top kits by making the number 1 and 2 sections the same length. This enables us to use a new mandrel and wrap them in a new way giving added strength and much-improved stiffness and lightning response. With new F1ST tops too we are now able to ensure that all the top kits are ready to bush and are the same length. This you can now be assured that no matter if you change from fishing match kits or Big Bore Power kits to even F1ST kits you will be fishing at the same point and feeding very accurately. This is essential in today's modern commercial fisheries.
A FANTASTIC PACKAGE INCLUDES
The pole comes with a match kit in the pole
Pole At 14m or 16.6m - With A Match Kit In The Pole.
2 spare match kits.
4 spare Big Bore kits
2 spare F1ST kits.
2 spare short number 3.
1 spare long number 3.
1 Cupping Kit with 2 Cups.
1 Reversible Mini Butt for the 6 -7 sections.
1 Reversible Mini Butt for the 8 -9 sections.
1 Anglers Towel and Baseball cap.
All comes in a Deluxe Competition Holdall and with all the Tubes.
With the 16.6m pole you get an 80cm Power Mini Butt to take it from 15.8 to 16.6m.
The SSP prices for this pole is 14.00m. £2449.99. 16.60m. £2949.99