Match Rods
Tri-Cast Trilogy Match Rods


The Tri-Cast Trilogy Range is fast becoming one of the most respected ranges of tackle within the Angling Industry. The range has been increased even further with the Introduction of our 4 new TRILOGY MATCH RODS which will only go to enhance and compliment this range.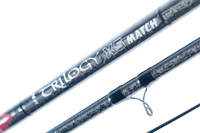 These 4 rods have been developed in conjunction with both our Sponsored Anglers and the Tri-cast design team, already acclaimed by the Angling press as taking Rod design and performance to a another level. Having been given a score of 10 out of 10 by Anglers Mail Consultants, it's a remarkable achievement, as that accolade has only ever been awarded on 4 previous occasions in the publications history.
Designed primarily for the River Angler, these rods are just super tools to use on big rivers such as the WYE, SEVEN, TRENT, OUSE and the DEE. Perfect, when using a Stick Float or indeed a large Waggler. These actions give you a crisp line pick up for those lightning fast bites. These blanks are all super light, ensuring each movement of the fish is transmitted through the whole length of the blank, yet allowing you to remain in full and total control at all times. The rods exceptional action has been achieved by the selective choice and mixing of Multi Modulus Carbon Fibre throughout, giving a totally through tip to Butt action.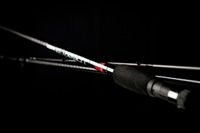 The range consists of 4 rods, 14ft and 15ft 'X' models, 14ft 'XS' model and 17ft 'X' model. The 'X' rods offer the lighter of the 2 actions with the 'XS' giving you a stiffer more powerful action in the middle section of the rod, for the angler who is fishing those faster flowing waters, or targeting bigger fish.
As already been stated by the Angling Press "These River Rods don't come better than this ".
| | | | | | |
| --- | --- | --- | --- | --- | --- |
| Model Ref. | Length (m) | Weight | Line Rating | Casting Weight | SSP |
| R-TXM-14 | 14ft | 142grms | 0 - 6lb | 0 - 15 grm | £284.99 |
| R-TXSM-14 | 14ft | 154grms | 0 - 8lb | 0 - 20grm | £294.99 |
| R-TXM-15 | 15ft | 208grms | 0 - 6lb | 0 -15grm | £302.99 |
| R-TXM-17 | 17ft | 282grms | 0 - 6lb | 0 - 15grm | £324.99 |