Andy Bennett Excellence Rods
Power Wand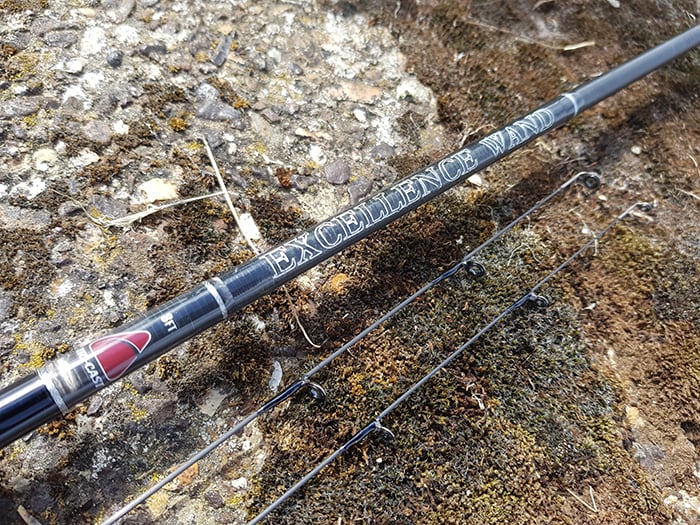 What a beautiful piece of Tackle this is. A real work of art and a masterpiece in design and technology which tested our skills to the limit.
Another rod required by Andy Bennett and this one went far beyond what he expected or thought we could produce. Originally this was going to be a short little light 8ft bomb rod for light work in the winter months. Perfect for that short little chuck to catch Roach and Skimmers etc. In all fairness that is exactly what we achieved and we meet Andy's requirements to perfection.
When out testing it, it performed perfectly on a little silver fish lake. A Pencil slim blank at 8ft in length which is made up of 2 equal lengths including the Carbon interchangeable tip so that it is easy to carry ready set up. So very light and responsive on bites with a great soft tip action, Andy just loved it and would get a lot of use in the winter months. It is supplied with 3 interchangeable Carbon Push in Tips.
It was then that I said to him, come on we are going on this snake lake. Why he asked ??
He set his gear up and I said put a size 16 LWG hook on and a banded 6mm pellet and cast to those reeds across. He said, but I will hook into a carp there and they are a bit big on this peg.
He was absolutely right as always and before long the tip shot round into a perfect arch from tip to butt. In less than three minutes a lovely pristine Carp of pushing 8lbs was netted. As he turned to me and with utter disbelief said, I don't believe what that rod just did. So he went and did it several times again.
This little wand is justifiably describe as a mighty atom. What a fantastic piece of kit. Not just a short little winter bomb rod but perfect in the summer. When your fishing long and the wind gets up so you cannot present your bait still enough then just drop a bomb on that line with this rod. PERFECT.
When you pick this rod up, then you will totally underestimate its underlying power. Beautifully balanced and light with an abundance of finesse but my god has it got a backbone to it. Seeing is believing and without doubt you need to see this rod. Get along to your Tri-Cast stockist and be prepared to be amazed.
| | | | | | | |
| --- | --- | --- | --- | --- | --- | --- |
| Product | Sections | Weight | Casting Weight | Line Rating | Tips | SSP |
| EXCELLENCE POWER WAND 8FT | 2 | 108grms | 0 - 30 grms | 0 - 5lb | 3 Tips | £179.99 |