Andy Bennett Excellence Rods
Excellence Wagglers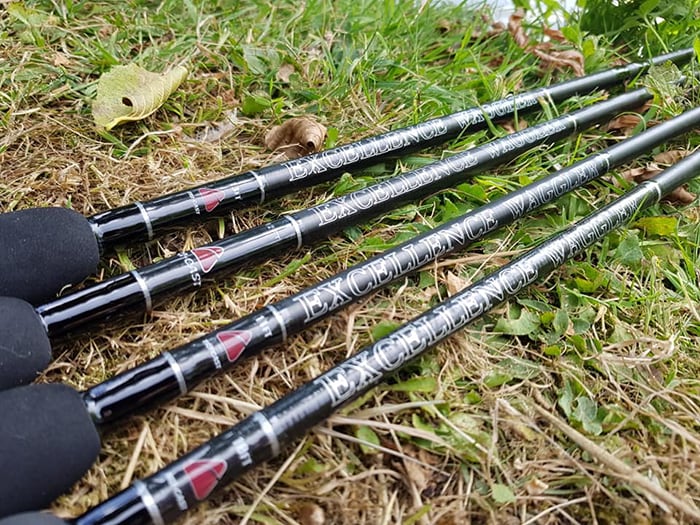 A combination of many factors has given us the opportunity to produce the finest every set of Waggler rods ever to leave the Tri-Cast factory.
Using the most technically advanced Carbon Fibres and Resins along with the input from our very own Andy Bennett, has led to outstanding results and features in this range. A perfect full Parabolic action allows these rods to arch through in perfect symmetry from tip to Butt. You can even feel this action under the reel fitting allowing the angler to feel every single movement of the fish and thus giving you complete and utter control at all times.
We had to keep updating and adjusting the slightest of things until Andy was 100% satisfied that they could not be improved in anyway at all.
The very best guides and reel fittings were sourced and used. Carbon weaves were adjusted along with various combinations of resins until the perfect action and balance was achieved. Painstaking work, but so well worth it when the final product is this good.
We have 4 models for you in this range which are all perfect for any Commercial Fishery, Still Water, Lake or Canal. We have a 10ft, 11ft, 12ft, and a 13ft model. With the exception of the 13ft the others are all 2 section rods which break down into two equal lengths and perfect for the Hardcase holdalls allowing you to transport them ready made up.
Each of these blanks are Super Slim, Lightweight, Well Balanced and Ultra Responsive. As Andy said, these rods are just years ahead of their time. Take a look and you will not be disappointed.
| | | | | | |
| --- | --- | --- | --- | --- | --- |
| Product | Sections | Weight | Casting Weight | Line Rating | SSP |
| EXCELLENCE WAGGLER 10FT | 2 | 130grms | 0 - 20 grms | 0 - 5lb | £189.99 |
| EXCELLENCE WAGGLER 11FT | 2 | 148grms | 0 - 20 grms | 0 - 6lb | £199.99 |
| EXCELLENCE WAGGLER 12FT | 2 | 163grms | 0 - 30 grms | 2 - 8lb | £214.99 |
| EXCELLENCE WAGGLER 13FT | 3 | 166grms | 0 - 30 grms | 2 - 8lb | £299.99 |