Match Rods
XRS Splash Waggler Rod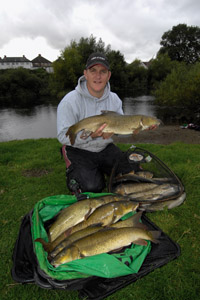 Following on from the now acclaimed XRS Pellet Waggler Rods, comes the very latest addition. The all new XRS SPLASH WAGGLER has been requested by a high volume of Anglers that fish this method.
When fishing for big Carp up in the water, you need the right rod to handle the situation and what has been demanded is an up rated version of our Pellet Waggler.
Thus we have now finally developed the new SPLASH WAGGLER. A very similar rod to the previous Pellet Waggler, but with that bit more backbone to aid in casting these big floats, and for hooking the big Carp that hit the bait at speed.

The action has to be completely all the way through from the Butt to the tip. This will allow you to pick up line quickly and set the hook, and yet not be too stiff to pull the hook out on the strike.
Once you have the fish hooked then the second part of this rods action comes into play, so that you have a cushioned effect to help you control the fish and yet at the same time just enough power to enable you to get the fish into the net in the shortest possible time.
This rod comes at 10ft6 and has a 1ft extension that can be used when you need to cast that extra distance. Very Slim, Light, Responsive and so well Balanced you will not know you are holding it. Power and Control beyond belief, this is just the perfect rod for this type of angling.
| | | | |
| --- | --- | --- | --- |
| Model Ref. | Length (m) | C/W ( L/R) | SSP |
| X2K4SW-3106 | XRS SPLASH WAGGLER 10FT6/11FT6 | 0 TO 30GRMS ( 2 TO 10lb ) | £194.99 |