Feeder Rods
Trilogy Commercial Feeder Rods.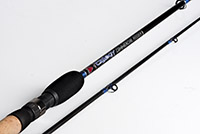 We now have what we believe to be the Ultimate in Commercial Fishery Feeder Rods. Designed for the discerning and demanding Commercial Angler this set of 3 Feeder Rods give you everything you have wanted and more.
The very best High Modulus Carbon Material which has been infused with the latest high tech Resins has ensured we have achieved a perfect Super Slim Blank with the perfect action. There are three rods within the range, an 8ft, 10ft and an 11ft model. All three are built to the highest standard and finish. All have the latest top quality Guides and reel fittings along with a full Cork Handle. Built with an action which is full of Finesse, yet with built in power to keep the angler in full control. Allows the angler to cast with the greatest of accuracy, and at the same times is so crisp in its action giving perfect line pick up through the water. Each rod now comes with three interchangeable Carbon Push in Tips. One Light, One Medium and One Heavy. The tips are new and also made out of an Ultra-Light High Modulus Carbon, thus keeping the whole rod perfectly balanced.
All three rods are two section rods ensuring they can be broken down to fit into your Ready Rod Hardcase Holdall with ease. These rods will take Commercial Feeder fishing to the next level and beyond.
| | | | | | | |
| --- | --- | --- | --- | --- | --- | --- |
| MODEL | LENGTH | WEIGHT | CASTING WEIGHT | LINE RATING | R.R.P. | S.S.P. |
| COMM FEEDER | 8FT | 130 GMS | 0 - 30 GMS | 2 - 6lb | £159.99 | £145.99 |
| COMM FEEDER | 10FT | 140 GMS | 0 - 40 GMS | 2 - 6lb | £199.99 | £182.99 |
| COMM FEEDER | 11FT | 170 GMS | 0 - 50 GMS | 2 - 8lb | £219.99 | £196.99 |