Carp Power Wand
XRS POWER CARP WAND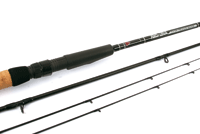 The XRS POWER CARP WAND just goes from strength to strength as for the second year running it has been awarded the ROD OF THE YEAR TROPHY and awarded the 8ft WAND AWARD. Never before has any rod achieved this, and proves just what an advanced piece of equipment this is. This rod defies all logic as people ask , how a rod that is so slim and light can develop such astonishing power. You have to use this rod to appreciate its awesome capacity and then you will fully understand why the award has yet again been given.
This rod, designed with a new Carbon Cloth and incorporating the XRS system of production, has even surpassed our expectations. With a full Parabolic through action and an Anti Locking Blank this rod is the perfect Rod for Commercial Fisheries. The highest quality Guides and Winch Reel fitting completes the make up of this Rod to produce an outstanding product that you would only associate with Tri-Cast.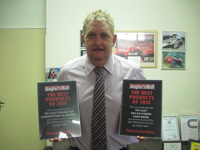 When you wish to fish a small feeder just beyond the pole line, or even fish down the Margins on tight swims then this is the rod for you. This rod is perfect for small silver fish, or the big Carp. The action lets you feel each movement of the fish and therefore you are always in control.
The Rod is supplied with two interchangeable Glass Push Over tips. A Yellow 1oz tip and a Purple 1.5oz tip.
When reviewed earlier this year by Angling Times, they stated that this XRS 8FT POWER CARP WAND was the finest rod they have seen all year.
| | | | | |
| --- | --- | --- | --- | --- |
| Model Ref. | Length (m) | TIPS (ID) | C/W OR (L/R) | S.S.P |
| X2K4-CW-48 | XRS 2K4 Carp Wand 8ft (2.44m) | 2 TIPS (1x1oz & 1x1.5oz) | 0 to 8lb Main Line | £136.99 |