Match Rods
TRILOGY F 1 COMMERCIAL WAGGLER 10FT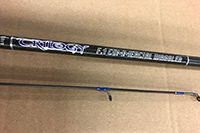 Due to an overwhelming demand, and in conjunction with designs from our sponsored anglers we are pleased to add to the already outstanding Trilogy Commercial Rod Range, our all new TRILOGY F 1 COMMERCIAL WAGGLER.
This is a truly superb rod and has been designed to do a job to perfection. Pellet Waggler fishing is now a deadly method in today's match fishing on commercial fisheries all over the UK. But as with anything else, you need the right tools to do the best job, and this rod is miles ahead of anything when it comes to this style of fishing.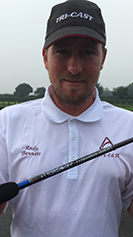 It is built as a genuine two section rod of both equal lengths to enable the angler to break down into a hard case holdall. The optimum length at 10ft means you have enough casting distance with a combination of an action which gives you great casting accuracy and a soft tip action to allow for hard hitting bites on the run and to cushion the bites. At 10feet in length, this will allow you to bring the fish to a perfect netting distance in front of you. If it is too short the fish will be under your feet and platform with the rod bent double, and if any longer then the fish will rise too far out and thus leaving you to have to stretch to net the fish.
Back bone within the bottom section gives the rod power, distance and accuracy and then a softer tip to allow for cushioning hard bites as the fish take the falling pellet on the run. This action and combination in these two sections is very hard to produce, but this rod has got it to perfection. It has a pencil slim blank and weighs in at a mere 132 grms. So making the rod Ultra Slim and Ultra-Light.
We have used all the very latest top quality guides and reel fittings etc. Proud to launch this rod and we know it will be very quickly become a firm favourite with all the match anglers who demand the very best.
| | | | | | |
| --- | --- | --- | --- | --- | --- |
| PRODUCT | LENGTH | C/W | L/R | R.R.P. | S.S.P. |
| TRILOGY F 1 COMMERCIAL WAGGLER | 10FT | 0 - 30 grms | 2 - 6lb | £189.99 | £169.99 |