Feeder Rods
Perfection Feeder Rods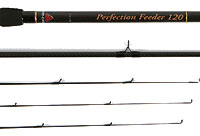 Our principles in feeder rod design technology have not been compromised with the launch of these 4 New Perfection Rods. Our continual advancements both in Carbon Fibre technology and new manufacturing processes have enabled us to utilise Multi Modulus Carbon Fibres throughout the entire range.
Each rod displays all the characteristics expected from a Tri-cast feeder rod, of exceptional Versatility, Performance, Excellent Casting Capacity, Speed of line pickup, together with deceptive Power and Control.
Each of the 4 New Rods, have their own individual actions, from the superbly light action 115 (10½ft) to the Heavy 130 multi length (12-13½ft) rod allowing you to feel every movement of the fish. The blanks are all super slim and very light, but retaining exceptional strength. The rods come complete with quality cork handles combining a Fixed Graphite reel seat, proven lined guides used on all our feeder rods for many years.
Each rod comes with a choice of detachable tips offering a range of test curves, please consult the feeder tip chart below for the individual test curves for each tip supplied. The tips are all colour coded for ease of identification or re-ordering purpose.

| | | | | |
| --- | --- | --- | --- | --- |
| Model Ref. | Length (m) | TIPS (ID) | C/W OR (L/R) | SSP |
| R-PF-115 | 115 - Light 10/6ft (3.20m) | 3 off (Be/Y/P) | 45gm (0-5lb ) | £159.99 |
| R-PF-120 | 120-Light-Med 11/6ft (3.51m) | 3 off (Be/Y/P) | 70gms (0-6lb ) | £189.99 |
| R-PF-125 | 125 - Med-Hvy- 12/6ft (3.81m) | 3 off (Be/Y/P) | 85gms(2-6lb) | £209.99 |
| R-PF-130 | 130-Hvy 12-13/6ft- (3.66-4.11m) | 3 off(O/BL/Br) | 140gms (2-6lb ) | £239.99 |